Taking a steam shower deeply cleanses the skin by making the body sweat. This process removes toxins from the skin and cleans the pores. Your skin will look and feel better when you take a steam shower and when you exfoliate. During a steam shower is the perfect time to exfoliate your skin. Previously in this blog series, we wrote about 5 Exfoliating Facial Soaps. The following are five more exfoliating facial soaps that will get the job done.
Dr. Woods Facial Cleanser Black Soap Shea Butter
This exfoliating facial soap can be used daily. The eco-friendly formula contains black soap, vitamin E and organic shea butter. This will treat blemishes, remove dead skin and moisturize the face. Dr. Woods is committed to providing natural, sustainable products made in the United States. This soap does not contain paraben; it does contain anti-oxidants, gamma tocopherol and botanical extracts. This vegan formula also comes in a tea tree oil version.
Loreal Go 360 Clean Deep Facial Cleanser
This cleanser from Loreal is dermatologist tested. It removes makeup, waste and oil from the face without using oil in its formula. The formula is a combination of four different high-foam cleansers from Loreal. It also comes with a Scrublet for applying the soap and washing the face. This gel soap also comes in other versions, including break-out, deep facial cleanser for sensitive skin and deep facial cleanser for all skin types. This soap also unclogs and shrinks pores.
Olay Professional Pro-X Exfoliating Renewal Cleanser
This professional formula is anti-aging. It is a part of a four step treatment developed by Olay and ProX Global Derm Alliance (the other steps include eye restoration, wrinkle smoothing cream and deep wrinkle treatment). This tested formula contains glycerin and rejuvenates skin.
Baking Soda & Coconut Oil
Perhaps you prefer to make your own exfoliating facial soaps at home because you have sensitive skin or because you enjoy DIY projects. The other perk to DIY options is that they definitely lower the cost of skincare. This super simple recipe from Northwest Edible Life contains ¼ cup of baking soda and ½ cup of soft coconut oil. Erica, author of that blog, uses organic coconut oil. If your skin is sensitive, do not use this cleanser every day.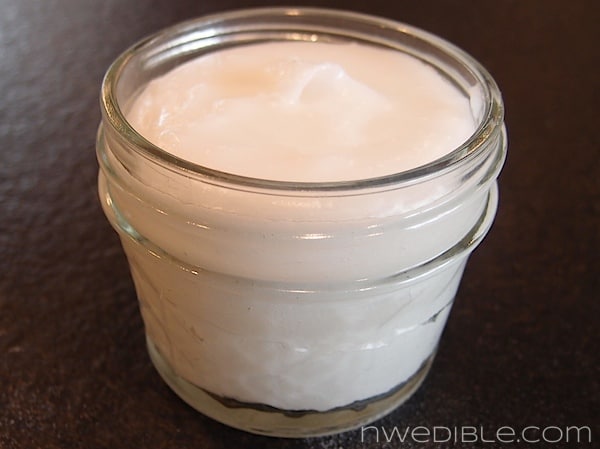 Photo & Recipe from: http://www.nwedible.com/2013/05/all-natural-diy-facial-exfoliator-coconut-oil-baking-soda.html
DIY Homemade Exfoliate and Detox Skin Polish Recipe
This is another recipe from Rebecca of Soap Deli News. In Part One of this blog series, we listed her recipe for DIY Natural Lemongrass Exfoliating Foaming Facial Cleanser. This polish recipe will clear blemishes and make your skin brighter. The ingredients, including sugar, charcoal, coconut milk powder, etc, are mixed into a bowl. Before each use, mix a small amount of the polish with a liquid, such as milk or water. The great aspect of this recipe is its simplicity (once you have all of the ingredients).
Photo & Recipe from: http://soapdelinews.com/2014/05/diy-homemade-exfoliate-and-detox-skin-polish-recipe.html
After washing your face and getting out of the steam shower, use a facial moisturizer to keep your face smooth and soft. Let us know which soaps you tried and which soaps you preferred.